I'm so thrilled to be doing what I love.
Art has been my passion since first being able to pick up a pencil and I enjoy all things creative, whether it's art, film or animation.
My enthusiasm is evident in the work I produce, particularly film, music, comic and superheroes painted onto Converse and Vans.
Interestingly, this is where my own story begins and it involves my autistic son Charlie.
My little boy struggles with changes because of his condition, so starting to wear a new pair of shoes was always a challenge, but the painted converse shoes have helped him, since children with autism need predictability and assurance.
Charlie loves wearing his special shoes. His first pair of shoes had the characters from the animated Minions film painted on them but once he outgrew them I passed them on, and created another pair for him.
Not only is he my biggest fan, he's my assistant and chief product tester!.
Ange Lord Art
Listen on Soundcloud (opens in new tab/window)
My business was started in early 2016 after some encouragement from my husband Danny. I'd always wanted to do something like this but had never taken the plunge fully,  I'm really enjoying it!
It suits me working for myself because it gives me the much needed flexibility to care for Charlie.
I was lucky enough to receive some press coverage from local newspapers, and I was invited to go on BBC radio to share my story too.
Derby Telegraph press coverage
Ilkeston Advertiser press coverage
My interest in art does actually go back to my childhood so it's in my nature to be always creating things.
I'm self taught in art and went on to study at South East Derbyshire College here in Ilkeston, where I live.
A pair of my shoes found there way into the hands of Harry Potter actor Daniel Radcliffe after a customer of mine went to see him in a London play.
He was gracious enough to have his photo taken holding the shoes as well as signing them.
Unique, Custom, Bespoke, Handmade
Because I see myself first and foremost as an artist, making money out of it has never been the priority, so the emphasis was always on trying to produce something unique that I could feel proud of.
I'm not sure how you feel about mass produced goods, but to me, they're a little soulless.
You can buy prints, copies, knock-offs and "me too" products from any mass vendor – think supermarkets or online marketplaces – which seems to reduce art to something used to fill space on walls.
My work is as important to me as it is those who wish to purchase it, and that is why you and I can spend the necessary amount of time discussing exactly what you'd like before you pay your deposit.
Style & Medium
My medium is acrylic paint, coloured pencils and air brushing. I use Angelus acrylics with footwear, clothing and apparel, and the pencils are used in portraits. If you request a bespoke commission we'll discuss style, medium etc.
It's worth taking a moment to explain to you my position on the quality of the materials/supplies used to produce the art.
The brands of paint used are Liquitex and Angelus, and the brand of pencils are Faber Castell, Prismacolor & Caran D'ache.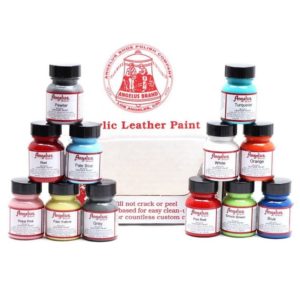 It would be a false economy to use cheap, poor or off-brand supplies so I thought you'd like to know about that.
My Products
To find out more about what I can offer, please visit the products page.